3XO Botanical Oil: Cumin
Topical Skin Care, Massage Therapy Herbal Extract Concentrate
For external uses only. Not for culinary use

The dried and crushed seeds of the cumin plant have been slowly decocted and infused for over 9 weeks, rendering a highly concentrated version of this botanical remedy.
Cumin Oil is a skincare oil as well as a massage medicinal with a wide range of properties including: antiseptic, anti-spasmodic, detoxifier, stimulant, nervine, and tonic substance. Cumin 3XO oil is mainly composed of Cuminic Acid, Cymene, Dipentene, Limonene, Phellandrene, and Pinene.

Cumin 3XO oil is a good bactericide that aids in wound care as well as acne.
Cumin oil when used in body massage is an efficient detoxifier. It removes toxins, including those which are produced by the body, such as some excess hormones and metabolic byproducts, as well as those which get into the blood stream through food, such as uric acid, insecticides, synthetic colors, and fertilizers. It promotes sweating and urination, thereby removing the toxins with them.

Cumin 3XO Oil can be applied to the skin in a cream, ointment, balm or massage oil. It does blend nicely with ginger, orange, lemongrass and basil.
Blend this infused oil in a ratio of 4:1
(1 part 3XO to 4 parts carrier, ie: cream, balm or oil base)
Topical Skin Care, Massage Therapy Herbal Extract Concentrate
For external uses only. Not for culinary use

The dried and crushed seeds of the cumin plant have been slowly decocted and infused for over 9 weeks, rendering a highly concentrated version of this botanical remedy.
Cumin Oil is a skincare oil as well as a massage medicinal with a wide range of properties including: antiseptic, anti-spasmodic, detoxifier, stimulant, nervine, and tonic substance. Cumin 3XO oil is mainly composed of Cuminic Acid, Cymene, Dipentene, Limonene, Phellandrene, and Pinene.

Cumin 3XO oil is a good bactericide that aids in wound care as well as acne.
Cumin oil when used in body massage is an efficient detoxifier. It removes toxins, including those which are produced by the body, such as some excess hormones and metabolic byproducts, as well as those which get into the blood stream through food, such as uric acid, insecticides, synthetic colors, and fertilizers. It promotes sweating and urination, thereby removing the toxins with them.

Cumin 3XO Oil can be applied to the skin in a cream, ointment, balm or massage oil. It does blend nicely with ginger, orange, lemongrass and basil.
Blend this infused oil in a ratio of 4:1
(1 part 3XO to 4 parts carrier, ie: cream, balm or oil base)
FAQ

What does 3XO mean?
" 3XO " stands for "triple infused".
It's a personal internal formulary identification system I devised to track and control repetitions of infusion..
1XO means that the first infusion is in that batch, and it has been infusing for up to 1 week
2XO means that the second infusion has been introduced to that oil, and it has been infusing for between 8 days and 2 weeks
3XO means that the third infusion has been introduced to that oil, and it has been infusing for between 15 days and 3 weeks

Only after the completion of the 3rd week, or at the 3XO stage, is the oil considered an extract or concentrated sufficiently to make available.

Do all herbs completely release their resinous, and oil based compounds in 3 weeks?
No.
Some herbs, such as saffron, and seeds such as fennel, require intermittent heat bursts, higher temps, and the addition of water to decoct them.

How much herb is used to make these oils?
A lot.
Many herbal oils on the market use a ratio of 1 pound of herb to a gallon of oil.
3XO Botanicals actually end up cooking down from 5-10 pounds per gallon.
This means, you won't find richer, more concentrated infused oils, anywhere.

Are 3XO Botanicals the same as Essential Oils?
No. and Yes.
Both oils are used for healing, and caring for the whole body and mind.
Essential oils are not truly "oils". They are steam distilled and micronised particulate compounds representing the features and properties of the plant used.
The process involved in making essential oils is one that exerts great forces of pressure and heat, and yields a very active, volatile medicine grade product.

What most people understand about essential oils is limited to how they smell. T
hey are highly aromatic due to being micronised.
Micronisation allows the molecules to so tiny, that 10,000 of them would fit on the head of a pin.
This gives essential oils the capability of crossing the blood brain barrier, and of entering the blood and nervous systems immediately upon inhalation.

Each of these 3XO Botanical Oils follow the Ayurvedic tradition of oil extraction rather than utilising the employment of steam distillation or solvent extraction.

The reason I choose to carry out this tradition is that each herbal oil is a "sneha", or a form of self love and self care and, as such, it ought to provide gentle nourishment rather than intensive concentrations of volatile constituents the way that certain essential oils and solvent expressed herb products can.
3XO Botanicals are food grade, and the lipid based nutritive compounds remain intact and undegraded or damaged due to the slow cooking process. They are safer to use than essential oils and are more gentle.

3XO Botanicals do not burden the organs of assimilation, digestion or elimination or irritate the mucosal membranes and may be considered free from cross interaction with other medication.
They are excellent facial quality beauty and skin care oils for this reason
Why don't the 3XO Botanicals have a strong aromatherapy quality?
The aromatic quality of each individual plant varies.
Since the process of preparation is cooking , not micronisation, and the primary channel of application is the skin rather than the channel of inhalation, these oils are less fragrant than essential oils.
They do still have, in many cases, a lovely natural nose, but keep in mind that these are foods for the skin, not for the nose.
Open a bottle of any 3XO oil and you will be rewarded with the natural aromatics of the herb.
Finally,
These amazing oils are made fresh every growing season and are not in continuous stock.
They are the freshest, most vibrant oils on the market.
Most of these oils will last up to 2 years if kept cool and dark.
CUSTOM ORDERS ARE AVAILABLE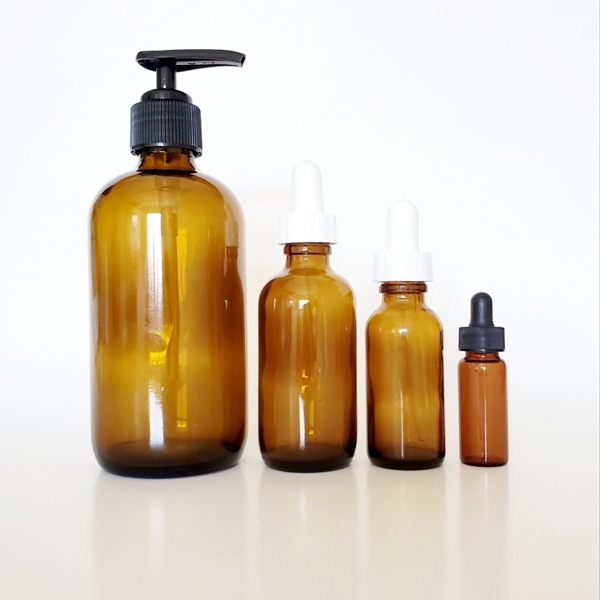 the 3 X O Botanicals are bottled in
UV blocking glass
+
are available in
2 drams
1 ounce
2 ounces
8 ounces